…….
If you are insured in one EU member state, you have the right to access unplanned healthcare in Greece through:
The European Health Insurance Card (EHIC) route.
The Regulations (EC) 883/2004 & 987/2009 for the coordination of social security systems provide for the European Health Insurance Card (EHIC).
The EHIC is a free card that gives you access to medically necessary, state-provided healthcare in case of emergency, during a temporary stay in Greece, under the same conditions and at the same cost (free in some cases) as people insured in Greece.
The EHIC may also cover the treatment of pre-existing chronic medical conditions and routine maternity care, provided the reason for your visit is not specifically to give birth or seek treatment.
A helpful guide for EHIC holders
The Greek national health system provides healthcare services through a network of ESY-public/state providers and EOPYY-contracted private healthcare providers (doctors, clinics, diagnostic laboratories, etc) for primary, ambulatory and hospital care. EHIC holders have access to the public healthcare system on the same terms and conditions as the domestic insured population.
EHIC holders are expected to present their European Health Insurance Card (EHIC) and their identification card (id) or passport at the point-of-service.
Primary/ambulatory healthcare is provided by:
EOPYY-contracted private physicians and health professionals
PEDY health facilities (national primary health care networks on community level)
hospital outpatient departments of ESY-hospitals
emergency departments of ESY-hospitals
Hospital healthcare for EHIC holders is provided by:
EOPYY-contracted private clinics
State/public ESY-hospitals
What an EHIC holder can anticipate concerning:
Ambulance / Air ambulance
When an emergency ambulance transport is required, you can dial 112 (EU-Helpline) or 166 (National Centre for Emergency Care – EKAV) to be transported to a public hospital on-call duty. Emergency ambulance transportation is provided free of charge by EKAV. In case of ambulance transportation provided by private clinics, you will be required to pay privately.
Transportation by air ambulance, which is the responsibility of EKAV, is free of charge in most cases such as urgent transportation from an island (more than 150 inhabited islands in Greece) to the mainland due to a life threatening health condition.
Primary/ambulatory care (physicians, diagnostics etc)
Patients can directly access ambulatory care by visiting a physician in PEDY urban facilities, rural health centres or hospital outpatient departments. The physician may prescribe necessary medications or tests or refer the patient to a specialist. Patients may choose to consult EOPYY-contracted specialists or a specialist at an ESY-hospital or EOPYY-contracted hospital for care.
Ambulatory care in rural and semi-urban areas is mostly delivered by a network of PEDY-health centres staffed with GPs and specialists (paediatricians, gynaecologists, orthopaedists, ophthalmologists, urologists, dentists, general surgeons, psychologists, radiologists, physiotherapists, microbiologists, nurses, midwives and social workers). In addition, rural surgeries and local health units (TOMY) that are administratively linked to health centres are staffed with publicly employed doctors and medical graduates. The number of available doctors in each health centre depends on the characteristics of the covered area (e.g. size, economic growth, epidemiological profile and access to hospital).
For PEDY-primary care networks or ESY-hospitals, you may contact the Citizens' Health Service Centres of the 7 regional health authorities, as follows:
You can find the PEDY-primary care networks and ESY-hospitals listed in Greek, as follows:
EOPYY also contracts private practices, laboratories and diagnostic centres and other health professionals to provide health care services to those insured. A system of monthly caps operates on physician activity. Every doctor contracted with EOPYY has a limit of 200 visits per month and there is also a monthly ceiling on the value of pharmaceutical. The latter varies according to specialization, number of patients prescribed for, the prefecture etc. This means that the beneficiaries of statutory health insurance who are in need of a doctor's visit or a prescription and choose to consult an EOPYY-contracted doctor must either find a physician who has not reached his or her ceiling or they will have to pay privately.
Usually you will not have to pay when you consult an EOPYY-contracted physician using your EHIC card. However, you should know that you may have to pay in some cases, for instance for medical procedures with statutory co-payment or for health services that are not included in the statutory health benefits package or for choosing to visit the doctor on your own initiative outside the opening hours of the doctor's office and you have agreed to a private visit.
For EOPYY-contracted health professionals, EHIC holders may use the HealthAtlas search machine (available in Greek and English) or the EOPYY-search machine (available in Greek). To find an EOPYY-contracted physician and ensure availability, you may use the EOPYY-eFindDoctor tool (available in Greek).
Dentists
Necessary dental treatment is mainly free of charge ONLY at PEDY or ESY units where available. Dentists working in public hospitals provide mainly secondary dental treatment for patients with medically complex conditions. Dentists working in PEDY-health centres provide dental treatment for children up to 18 years of age, and emergency treatment for all ages.
There are no EOPYY-contracted dentists, so if you choose a private dentist you will have to pay privately for your dental care.
Hospital inpatient care
In emergencies, you can go directly to a public hospital on-call duty or an EOPYY-contracted hospital.
You can call the European emergency line 112 or the national EKAV-line 166 in order to request emergency ambulance transport or rescue services.
Usually, a doctor at the emergency department of the hospital will provide a referral for hospital treatment.
Present your EHIC and your ID or passport upon arrival on admissions.
Hospital treatment is free in ESY-hospitals. If you choose to be treated in an EOPYY-contracted private clinic, then you will be expected to pay co-payment for part of the hospitalization cost (30% for DRG applied or 10% for daily hospitalization), all doctor's fees, choice of room upgrades and other potential additional charges per case depending on the type of treatment you receive.
IMPORTANT! If you choose to receive hospital treatment in a private clinic without an EOPYY-contract, you will not be covered with your EHIC and you will have to pay privately for all costs.
Prescriptions
If your medical condition requires medication, then the physician can provide you with the necessary e-prescription. You can purchase your medication at any pharmacy as long as you carry your EHIC and the prescription is stamped and signed accordingly.
E-prescriptions must be dispensed within the time limitation indicated on the upper right part of the prescription (usually within 5 days), otherwise they will be automatically cancelled.
In most cases, there is a 25 % co-payment on the cost of the prescribed medication but for some groups of patients such as the chronically ill, medication is free of charge or a reduced co-payment is fixed.
For each dispensed e-prescription there is a 1,00 € fee (non-reimbursable).
Pre-existing chronic conditions and maternity care
For chronically ill patients who, during their temporary stay in Greece will need specialized care such as hemodialysis, oxygen therapy, chemotherapy, etc., it is absolutely necessary for them to contact in advance, the competent healthcare provider, prior to their arrival in Greece. There are issues of service availability, medical history and other possible formalities in order to ensure safe and timely treatment. We strongly advise patients to pre-arrange treatment before travelling.
If treatment is provided at PEDY units, ESY-hospitals or EOPYY-contracted private providers, then there is no charge as long as you carry your EHIC and proof of identification (id or passport). If you opt for treatment at private healthcare providers, then you will have to pay privately.
The Greek national law prescribes that high cost medication for chronic diseases are provided free of charge at EOPYY-Pharmacies.
Information about the list of EOPYY-Pharmacies is available here.
Information about the medications provided by EOPYY-Pharmacies is available here.
You should know that an e-prescription from an ESY-hospital specialist doctor is needed in order for the EOPYY-Pharmacy to provide you with the medication needed and for some medication prior EOPYY-authorization may be required. Relevant information and guidance is provided by the physicians that prescribe accordingly. You can also address related questions to EOPYY-Division of Pharmaceuticals at the email: d6@eopyy.gov.gr.
EHIC holders may also access health care related to pregnancy or birth as long as that wasn't the reason for travelling to Greece.
Costs reimbursement
As an EHIC holder, you are treated as an insured Greek national and you are entitled to the health benefits prescribed by the Regulation of Health Benefits (EKPY) in other words what the national health benefits basket provides with the same conditions and financial obligations.
If you are not an EHIC holder at the moment of receiving healthcare treatment and you pay for all costs incurred, you are strongly advised to keep all medical documentation signed and stamped by the treating doctor. You may need to submit it to the competent health insurer in your home country in order to claim reimbursement. Such documentation may include:
Doctor's prescriptions for medication or medical tests, signed and stamped (the name of the patient, the date and the diagnosis should be noted on the prescription);
Healthcare provider's itemized invoices for the treatment received;
Doctor's / hospital medical reports;
Hospital documentation such as admissions/discharge notes;
Pharmacy receipts, etc.
Important! Any healthcare treatment provided by private/non-contracted with EOPYY healthcare providers, is not reimbursable according to Greek national law. In other words, your EHIC does not cover any relevant costs. Make sure you enquire with your national health insurance fund or the national contact point for cross-border healthcare back home about the possibility to have such costs reimbursed under the Directive 2011/24/EU.
Patient's co-payments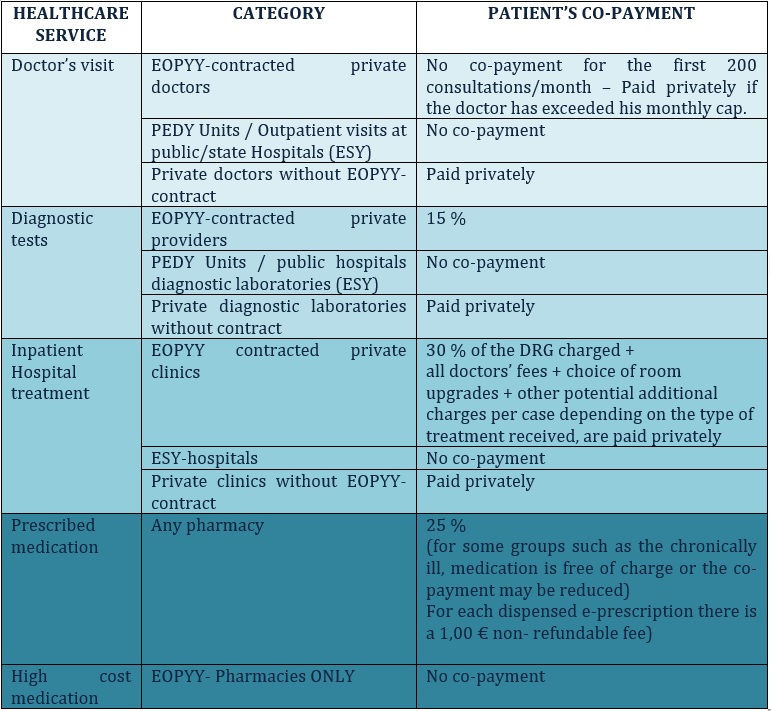 Key contacts
Trouble or questions for EHIC holders?
Send an e-mail at: ehic@eopyy.gov.gr or call at: 0030 210 8110916-919.
Searching for a public/state healthcare provider in Greece?
Visit HealthAtlas search tool here.
Searching for an EOPYY-contracted healthcare provider in Greece?
Use the HealthAtlas search tool (available in Greek and English) or the EOPYY-search machine (available in Greek). To find an EOPYY-contracted physician and ensure availability, you may use the EOPYY-eFindDoctor tool (available in Greek).
You are not sure of your rights to health care in Greece?
Contact the Greek national contact point for cross-border healthcare
…….
The EU Directive 2011/24/EU route on cross-border healthcare.
This is a funding arrangement between you and your national health insurance fund. Using this route means you will have to pay the costs of your treatment abroad upfront and then claim the reimbursement of costs from the national health insurance fund when you return. You may choose freely the healthcare professional -private or affiliated with the statutory health system- you wish. If you are entitled to that healthcare at home, then you will be reimbursed by your home country. The reimbursement will be up to the cost of that treatment at home.
Under the Directive 2011/24/EU you may need to get prior authorization for certain treatments so make sure you contact your health insurance fund or the national contact point for cross-border healthcare at home.
………..
Useful information sources
Last Update: 23 December 2021